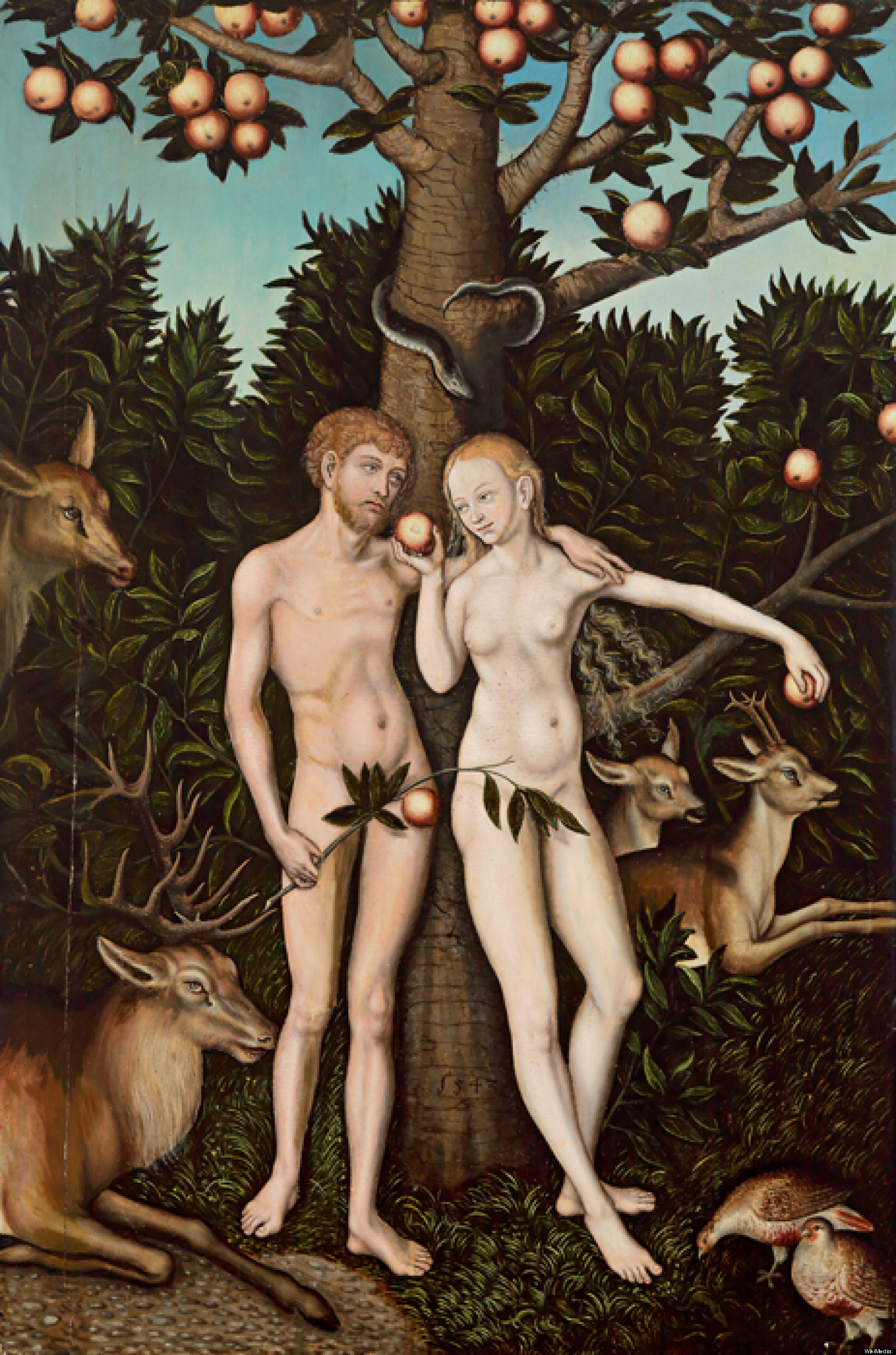 Free fruit, talking snakes—this place is great!
One of the man's rejected pets, a snake, approached the woman and asked her if it was true that the new humans could eat from all of the trees.
The woman said, "We can—just not that one tree in the middle of the garden with the 'Danger: do not eat' signs all over it.
It'll kill us."
"It won't kill you," said the snake.
"Why would God put something here that will kill you?
He just doesn't want you to know how to do his job, which requires knowing the difference between good and evil.
If you knew the difference between good and evil, then you wouldn't stay in middle management forever."
Eager for a promotion, the woman ate some of the forbidden fruit and got the man to eat it, too.
Suddenly the woman realized she had small breasts and a slight roll of fat around her abdomen, and the man realized his penis was a little small and that he didn't like the hair on his chest.
They then made their first clothes, out of fig leaves.
Worse fashions were destined to come later.
That evening they heard God walking around the garden, so they hid behind trees.
"Where are you, man?" called God.
The man replied, "I'm a little out of shape so I don't need You to see me and pass judgment," he said.
"Who told you you were out of shape?
Did you eat from that tree?
Dammit!
I give you just one rule to follow, and what do you do?
You screw it up!"
"Well, actually," said the man, "it was the woman who ate it first and then gave it to me to eat.
She started it."
"Thanks a lot," said the woman.
"See if I ever stick up for you."
Then she said, "Actually, it was the snake's fault."
"Excellent delegation of blame," said God.
"You two are perfect for middle management.
And since you, man, didn't come up with the bad idea, you're in charge.
Don't listen to the woman anymore.
And no bonus for either of you this year.
Snake: you're fired.
Get outta here."
Then the man named the woman Eve, which she couldn't object to, since he was in charge, but since that was a girl's name, it wasn't so bad.
The snake was out of the equation, but the humans were a problem.
"Now that they know the difference between good and evil, they'll be like one of us.
So I'd better kick them out," said God, and the man had to leave Eden, take the skills he'd learned and create his own startup.
"Wait a minute," thought God to Himself.
"What do I mean, 'one of us'?
Who else is there like Me, anyway?"