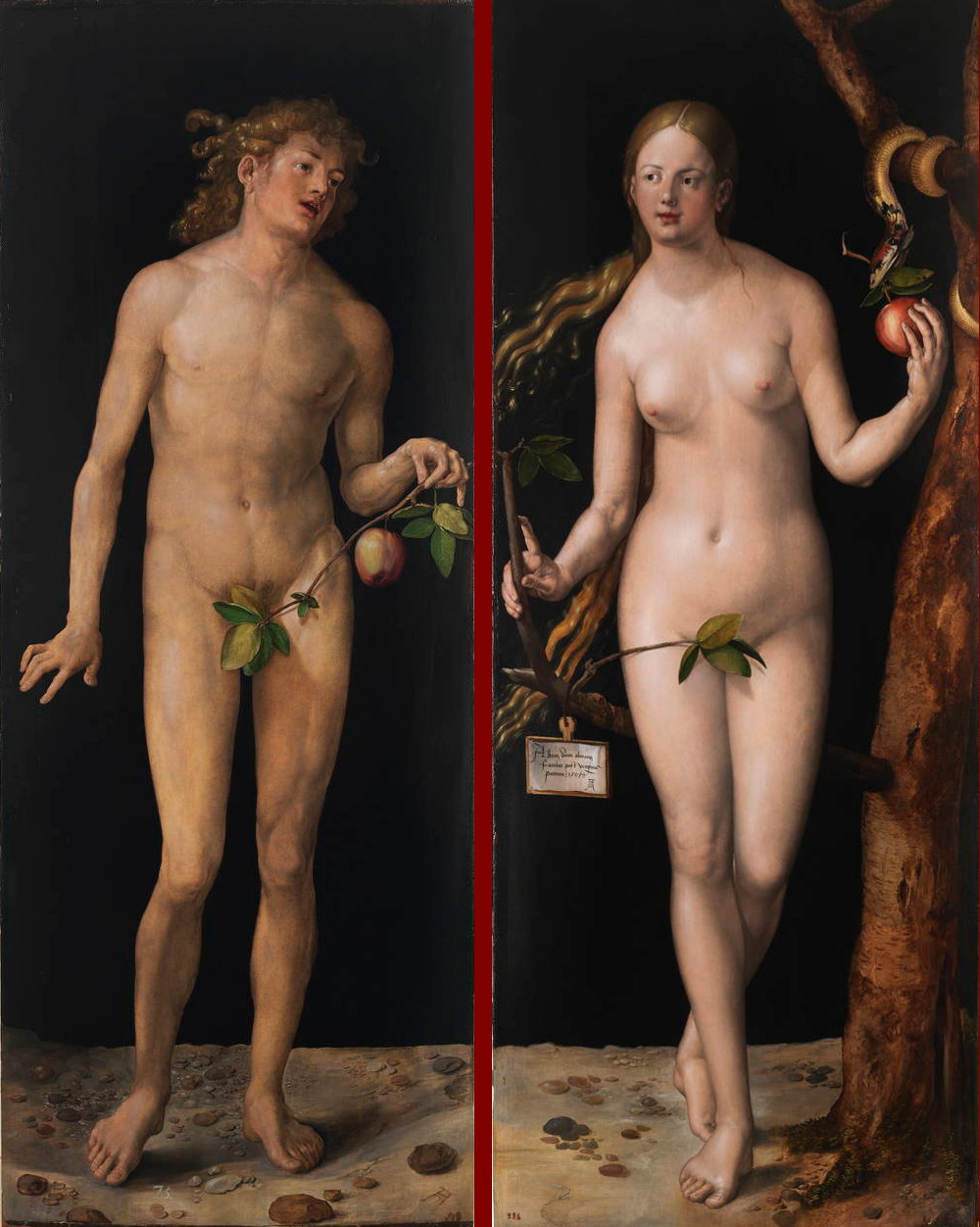 Albrecht Dürer's "Adam and Eve" (1507)
On the sixth day, God tinkered with what He had made, and on day seven, he knocked off.

"Might as well have a holiday now," God said, and He invited everyone over to His place that day, even though they didn't really feel like going.
Next week God found some particularly crappy ground where nothing was growing.

He took the clay there and shaped another human being with His own hands, because He was already bored with the other human beings He made last week.

Then God made the Garden of Eden, which was a diorama to keep his new human in.

Just to make things interesting, He also made a tree that grew a fruit that would let you figure out the difference between good and evil, but insisted that the human eat nothing from it.

"Eat from that tree and you'll figure out right from wrong," God said, "and then you'll die.

Now do my gardening."

(Years later, God would create another haven for those who don't know right from wrong, and He would call it the United States Congress.)

Then God decided that people shouldn't eat alone, so instead of going back to those other people He created last week, He instead paraded all the animals in front of this man and asked the man to name them.

The man did it, but there weren't any good pets in the whole group of them.

So God knocked the man out and surgically removed one of the man's ribs and built a woman, since all the women He had created last week weren't that interesting for some reason.

God woke the man up and explained to him what He had done, and the man said, "All right, I'll name this one 'woman' because, like, whoa, man, don't tear my bones out of me when I'm asleep, okay?

Kinda creepy, don't you think?"

("The whole 'woman from man' thing is some sort of wordplay," biblical translators would explain later.

"It doesn't really work in translation, but we're leaving it in there anyway."

And so it was.)
As they walked around the garden, fig leaves would seem to follow them around for reasons that were never sufficiently explained, obscuring parts of their bodies at all times.

These new people were naked, and they both liked being naked, because they had no body image issues.

Those would come later.

Boy, would they come later.

Fruit is trouble.